http://www.ucmerced.edu/news/2015/biomedical-researcher-named-campuss-first-pew-scholar
Biomedical Researcher Named Campus's First Pew Scholar
Clarissa J. Nobile, one of 22 researchers named Pew Biomedical Scholars today, recognized for groundbreaking work studying how communities of microbes form drug-resistant biofilms
June 11, 2015
Quick Facts: 
Professor Clarissa J. Nobile is UC Merced's first Pew Biomedical Scholar, joining the more than 600 to receive the honor in the program's 30-year history.
Nobile studies biofilms, microbial communities that are notoriously resistant to antimicrobial treatments.
Instead of targeting individual bacteria or fungi, Nobile's lab examines microbes in the context of their complex ecosystems.
Clarissa Nobile is UC Merced's first Pew Biomedical Scholar.
Professor Clarissa J. Nobile of the University of California, Merced, is one of 22 researchers named today as a Pew Biomedical Scholar Opens a New Window.for her work exploring how communities of microbes conspire to cause disease.
Nobile is the first UC Merced researcher to win a Pew scholar award, and she joins the more than 600 scientists who have been selected as Pew scholars Opens a New Window.in the 30 years since the program's inception. The program provides four years of funding to early-career scholars dedicated to pursing high-risk, high-reward research that can lead to extraordinary discoveries in biology.
"Professor Nobile is a shining example of the outstanding research being conducted at UC Merced, and highly deserving of this recognition," said Juan Meza, dean of the School of Natural Sciences. "We are proud of her accomplishments and look forward to her continued advancements in this important area of study."
The prestigious award will help fund Nobile's groundbreaking research in the growing field of biofilms, microbial communities that can develop in the human body or in nature and which are notoriously resistant to antimicrobial treatments.
In what is a relatively new field of research, Nobile is on the cutting edge. Infections are often treated by targeting individual bacteria or fungi, as if they act in isolation. But these microorganisms are part of complex microbial ecosystems that scientists are only beginning to understand. Nobile's work studies infections from the ecosystem context, rather than the individual microbe.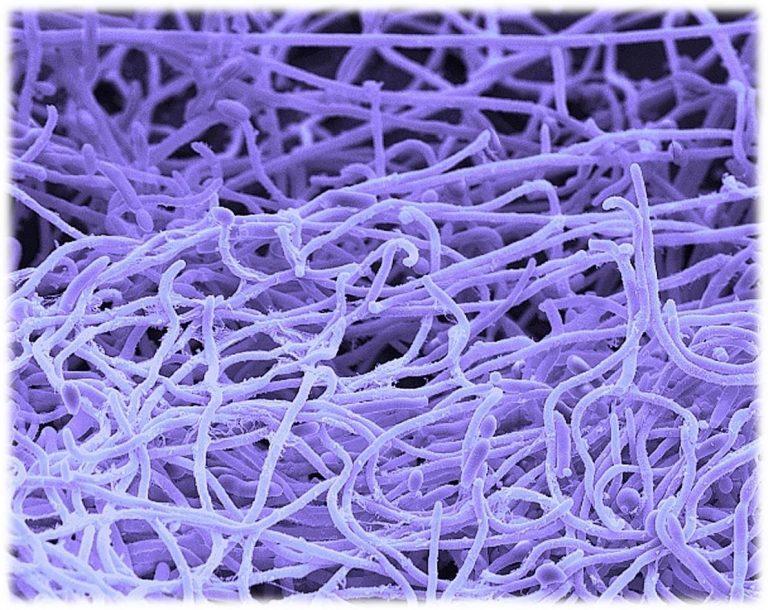 Nobile studies biofilms like the Candida albicans, shown in this scanning electron micrograph.
"Microbes interact routinely with one another and communicate by producing compounds that the others can recognize — these compounds can be antagonistic or cooperative in nature," Nobile said. "Microbes in a biofilm form a matrix with really unique properties, which lead to infections that are almost impossible to get rid of without physically removing the biofilm from the location where it formed."
Using an array of genetic, biochemical, microbiological and sequencing techniques, Nobile's lab is beginning to map the interactions between several interacting microbial species prevalent in humans.
By identifying how microbes influence the gene activity of partner species and the molecules they use to communicate, Nobile hopes to change the way scientists look at microbial interactions and create better ways to combat infectious disease. She is also the co-founder of a startup company, BioSynesis Inc., whose mission is to develop diagnostics and therapeutics to treat biofilm infections.
For Nobile, who earned her Ph.D. at Columbia University in 2007 and was a postdoctoral researcher at UC San Francisco before arriving at UC Merced in 2014, the Pew award is the highest recognition of her young career.
"It means people are starting to recognize this work as being beneficial to humankind," she said. "I've been doing this research for more than 10 years now, and it's nice to be recognized as someone who is pioneering this field as a young investigator."
UC Merced has provided an ideal place for Nobile to continue her research program. The university boasts a strong group of faculty members studying pathogens and their hosts, and the campus's interdisciplinary spirit has made it easy to collaborate with researchers in fields like applied mathematics and environmental sciences.
In addition to her work on biofilm infections in humans, Nobile is taking advantage of UC Merced's location and her colleagues' environmental research strengths to study the formation of biofilms in groundwater wells in the Central Valley. Biofilms that form in groundwater wells, a process known as biofouling, can cause wells to clog.
"The researchers here are highly interactive and very willing to collaborate," she said. "We have excellent facilities and a very nice lab space. It's wonderful that the scientific community is beginning to recognize that we are doing this kind of research at UC Merced."
James
Leonard
Director of News and Social Media
(209) 228-4408