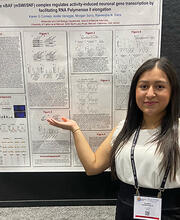 My name is Karen Cornejo and I am a graduate student in the Saha lab. I graduated from UC Davis where I received a B.S in Neurobiology and a B.A in Spanish in 2020. As an undergraduate, I was part of programs like UC LEADS where I had the opportunity to conduct research and apply to graduate school. 
I am part of the QSB graduate program where I hope to learn and investigate neuroepigenetics in the Saha lab.
Outside of the lab, I like to play soccer, cook, and being outdoors! 
Favorite Quote: "Caminante, no hay camino, se hace camino al andar" — Antonio Machado
Contact Information
Websites