Interested in participating in our research?
 
We are always looking for more participants to help us explore children's early social cognition and language. If you have a child between 1 and 5 years old, we would like to invite you to participate in one of our studies! Most studies involve a single visit to our lab on the UC Merced campus. Our studies are designed to be fun and entirely safe for children. Most children really enjoy participating!
How do I schedule an appointment for a study?
 
We are typically open Monday-Friday from 9 to 6:30. We are happy to make an appointment that fits your schedule. You can give us a call at 209-228-2343 and speak with any of our research assistants about scheduling an appointment for you and your child. Alternatively, you can fill out our webform or email us at cecl@ucmerced.edu to request an appointment.
How long does an appointment take?
 
We usually schedule 30-minute appointments. Many of our studies are shorter than this (10-15 minutes on average), but we schedule 30 minutes so that there is time for you to fill out paperwork and ask any questions that you have about the study, and so that your child has time to become comfortable with the lab and with our research assistants.
A few of our studies involve longer appointments (45 to 60 minutes). We'll be sure to let you know if the study will be longer than 30 minutes so that you can decide whether you have enough time to participate.
Where is the lab located?
 
Our lab is located in the Social Sciences and Management building on the UC Merced campus. For more information on finding our lab, visit our Contact page.
What about parking?
 
We have free parking space reserved for you directly outside the building in the Le Grand parking lot. You can park in any of the three spaces with the sign "Reserved for Research Participants." When you schedule an appointment, we will send you directions to the parking space, as well as a parking pass to place on your dashboard during the appointment.
Can I bring my other children with me?
 
Yes! They are free to play in our waiting room during the appointment. We always have extra research assistants on hand to babysit siblings.
Will I be with my child during the study?
 
Yes, you will be with your child throughout the entire visit to the lab.
What are the studies like?
 
We conduct several different types of studies in our lab: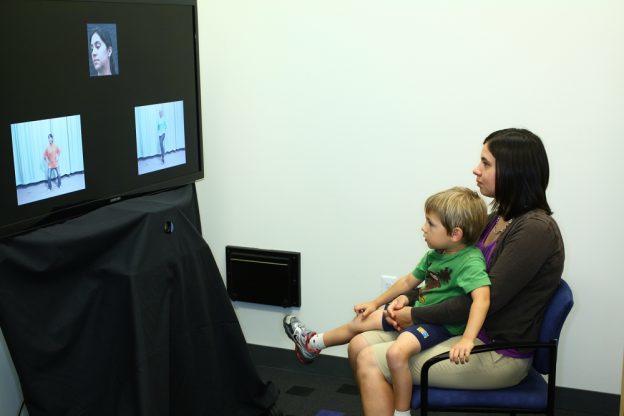 In our looking-time studies, your child will sit on your lap and watch a video on a large television screen. We monitor your child's looking behavior during the video to see how long he or she looks at particular events in the video, as well as where he or she looks at key points during the video. For instance, in a study on children's understanding of preferences, children might see a girl repeatedly reach for a red toy instead of a green toy. If children understand that the girl prefers the red toy, then they should expect her to continue to reach for the red toy in the future. If the girl suddenly reaches for the green toy, children should be surprised. Because children typically reveal their surprise by looking longer, we predict that if children are surprised when the girl reaches for the green toy they will look longer at that event than when she again reaches for the red toy. This would show that they have a basic understanding of preferences.
In our storybook studies, your child will sit on your lap at a table. One of our research assistants will tell your child a story accompanied by pictures and/or objects. We will record your child's reactions throughout the story, and ask him or her simple questions about the pictures or objects. For instance, in one study, children hear a story about a girl who hides an apple in a box and then leaves. While she is gone, her brother finds the apple and takes it. Children are then asked where the girl will look for the apple when she returns. Because the girl did not see her brother take the apple, she should have a false belief that her apple is still in the box. If children understand this, they should say the girl will look in a box. This would show they understand that people can be mistaken.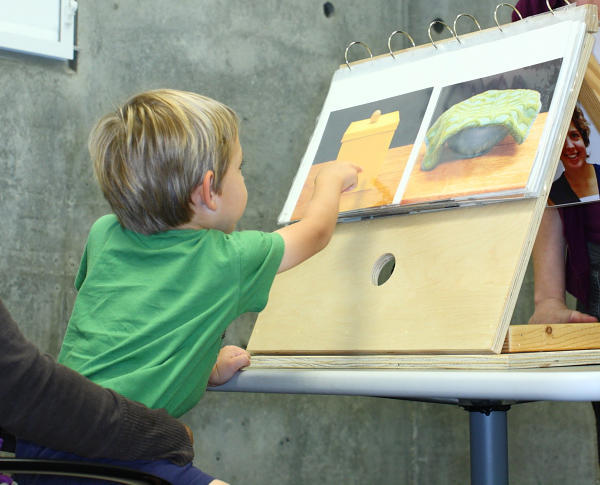 We also conduct several observational studies. In these studies, you and your child will read a book together and/or play with toys together. We will record your child's reactions, as well as what he or she says during your interaction. This allows us to get a sense of what children's abilities are like at different ages, as well as how different abilities relate to one another. For instance, we can examine when children begin to say words like think and feel and how is this is related to their understanding of others thoughts and feelings.
Is there any kind of compensation?
 
Every child receives a small gift such as a book or t-shirt to take home as our way of saying thanks. Some of our studies also offer monetary compensation for parents, depending on the time commitment required.
My child had a lot of fun! Can we come back again?
 
Of course! We have a number of different studies running at all times. We may have another study that your child is eligible for, or they might become eligible for new studies as they get older. Although parents often choose to come back to participate in additional studies, this is completely voluntary. Each study involves a single, one-time visit. You are not committed to any other visits.